Hello everyone! I got a new machine recently and want to tell you all about it! Actually, I've had quite a few friends asking about this one, so I'm going to do a few posts on it as I use it for more projects. It's the Cricut Explore Air 2 mint machine. (I love this color!)

(This is a sponsored post, and there are some affiliate links in this post which simply means that I get a small commission if you purchase through those links, at no cost to you. More details can be found in my Disclosure page. Thanks for supporting my small venture.)
I've used cutting machines before, but have never used a Cricut, and I honestly wasn't really sure what to expect. I was a little bit skeptical that I would like it more than other machines that I've used, but friends, I'm here to tell you that this machine is incredibly cool!
The package arrived at my doorstep on a rainy day and I immediately opened it up. I may or may not have been procrastinating some housework, but so it goes. 😉 Everything was packaged really securely, which is always nice. Included in the package were the machine, power cord, USB cord, cutting mat, black pen, a few pieces of cardstock paper, and instructions.
It might sound a little silly, but I was impressed by how shiny the machine was and how pretty it made my tired old craft table. I like shiny things. First, I grabbed the instructions and followed how to plug everything in, which was pretty self-explanatory and simple, but I'm an instructions follower to the core.
It also comes with this paper with the website to go set up your machine online.
Isn't she just pretty? There was a small sticker on the front that I removed, then hit the Open button. You guys, it's the coolest thing to open this machine for the first time. It was a slow and completely silent opening mechanism, which makes it quite fun and dramatic to open. At least I thought so.
Another thing I really liked were the little storage compartments. You can see one on the left for pens, weeding tools, or scissors, and on the tray that comes down you can see two sections that lift, offering more supply storage. It's really smart! Here is a list of other features.
The Cricut Explore Air™ 2 machine is full of amazing features:
• Up to 2X Faster. Select Fast Mode when you need to make every minute count.
• Quick projects. Select from over 3,000 ready-to-make projects or make quick cuts from our extensive image library.
• Create on your computer, tablet, or smartphone.
• Embedded Bluetooth® for wireless cutting
• Cut 100+ materials from vellum to leather
• Smart Set® dial for easy material settings
• Double tool holder for cutting and writing or cutting and scoring in one step
• Upload your own images for free (.svg, .jpg, .png, .bmp, .gif, .dxf)
• Thousands of designs and ideas to kickstart virtually any project.
• Cut Smart® technology for precision cutting and easy and pre-calibrated material selection
• Upload and use your own image files or fonts for free
• Works with Cricut® cartridges
• Cuts printable images
• Integrated storage compartments
Alright, so once your machine is all set up, you want to also jump on your computer and check out Cricut Design Space. It's really cool! You can find many free designs for ready-to-make projects and the system works so well to walk you through any material or device settings. I am quite impressed. You can also make your very own designs in the design space. And it's all on the internet so you can save your designs to the cloud or on your computer. Here's a screenshot of just a small section of projects.
Can you see the little A symbol on the top left of some of the project images? Well, that those are the projects you can make with the Cricut Access subscription. There is an option for standard or premium, and click on this image to learn more: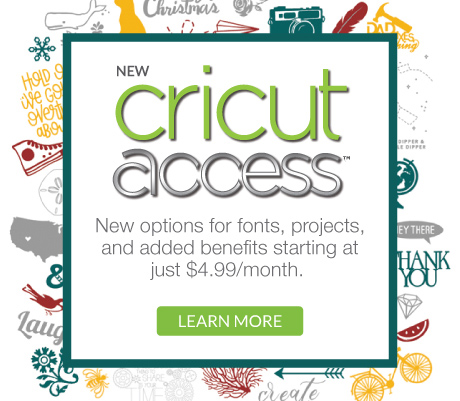 They even have some great video tutorials to help us get started with this machine. But really you guys, it has been so easy to use. Much easier than other brands that I've used in the past!
I hope this has been a good introduction to the machine. In my next post I'll share how I did my first project, and give you any pointers that I've learned as I go. I am planning so many projects!
On my list are:
custom t-shirts (because I love t-shirts)
some fun wall decals for my kids' rooms
holiday cards
stencils for my woodworking projects
and I truly cannot wait to make a leather cut-out bracelet with this machine!
There are just so many options. I'll definitely keep you updated with each project.
Thanks again for reading!
–Sheri
This is a sponsored conversation written by me on behalf of Cricut. The opinions and text are all mine.

Maker. DIY Blogger. Artist.
Sheri has been creating all of her life in various ways and finds great purpose and empowerment in creating something new. When she's not in the workshop or craft room she is making memories with her husband, four kids, perfect dog and ornery cat.