My son loves Star Wars, as many 9-year-old boys do. His mom happens to love it too, and might somewhat live vicariously through him by making him a Star Wars room. Anyway, this weekend I added these decals to the wall in his room. I wanted to blog about the overall decal wall, and add that there is so much weeding involved in cutting these out of vinyl, but the end result makes it totally worth it!
(FYI- There are some affiliate links in this post which simply means that I get a small commission if you purchase through those links, at no cost to you. More details can be found in my Disclosure page. Thanks for supporting my small venture)
Cut out Star Wars room decals
Alright, so if you have a vinyl machine, you just find an image you want, trace it or import it, and cut out the design. These are pretty intricate, but with some patience and love you can totally do it!
Apply to Star Wars room wall
Here are finished photos from a couple different angles. It takes up most of the wall. His ceilings are really tall, so they didn't cover as much of the wall as I'd hoped, but they'll do for now. I just have to figure out what else to add to his Star Wars room. The pictures don't quite do this justice, it actually looks pretty cool. The camera just can't capture the blue of his walls, and his bookshelf was a disaster so I didn't get that in the picture. I'll get better pics up soon also!
Friends, if you need anything cut out of vinyl, I'd be happy to help. I can either design it for you to cut out, or I can cut it out and ship it to you for a fee. Contact me! It's so much fun to customize a room to whatever you want. The vinyl these decals are made from is meant to least a few years, but will also peel off the wall just fine without damaging the paint. Here is the vinyl that I used: (affiliate links Oracal 631 Matte Vinyl – 24 Pack of Top Colors – 12″ x 12″ Sheets
) – I know because I've tested it. We've moved often enough that I have to remove decals all the time and haven't had any issues with this vinyl. Get out there and get your craft on, my friends!
Another fantastic resource for vinyl online is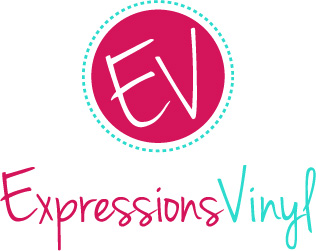 Also, check out some of my other vinyl projects:
Just Breathe wooden sign using my Cricut
Thanks friends, get out there and make something (and be sure to share photos!)
If you like this project, please share this image on Pinterest! Thanks friends!!
~~Sheri~~