This project building a DIY Wooden Cubs sign was so much fun! It was also customized as a wedding gift, so you won't want to make an exact replica of it, but the technique could be used by anyone to make any sort of design on wood.
I'll walk you through the process now…
(There are some affiliate links in this post which simply means that I get a small commission if you purchase through those links, at no cost to you. More details can be found in my Disclosure page. Thanks for supporting my small venture.)
If you like this project after reading, Please PIN this image to Pinterest! Thank you!
Assembling the wood:
First, cut down the boards. I used 6 – 1x4s and cut them to 24″ length. Stagger the boards. I didn't even measure this, I just used a spacer piece of wood to make sure they were staggered the same distance on each side, but didn't measure anything. (Sometimes I do things the lazy, errr…SIMPLE way.)
Next glue and clamp the boards. Let dry. My favorite glue is Titebond II Premium Wood Glue
(aff link)
Once the glue is completely dried, sand the whole thing down. I always use 80 grit, then 120 grit, then 220 grit. It's a lot of work maybe, but always worth it. If you're in the market for a sander, this is the one I use and I really like it! Makita 5-Inch Random Orbit Sander
(aff link)
Stencil:
I cut a large stencil with my Silhouette Cameo. If you don't have one you can get a great bundle here Expressions Vinyl Cameo 3 Bundle , or find someone that can cut it for you, or try purchasing a vinyl decal on Etsy or other online decal retailers. Alternatively, feel free to contact me and we can work out a price for one. 😉
Below I am applying the first half of the decal. It was about 18″ wide, and the cameo only cuts 12″ wide, so it has to be done in two pieces. I always use Oracal 631 from (aff link)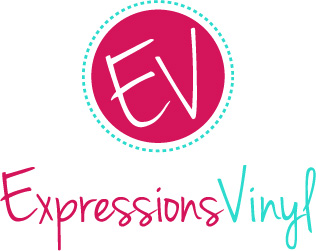 Applying the stencil:
I measured from the far sides of the boards which are staggered, found the center and drew a very light line all the way down. This made it easier to line up the Cubs sign but also the names at the bottom.
Below, I'm adding the 2nd half. Lining it up perfectly before applying. This takes some practice, but as long as you are careful, you can do it! My biggest advice here is to take your time. When applying vinyl, I tape the top in place, fold the entire thing up carefully, peel a little of the paper backing off and cut about three to four inches off. I then slowly press the vinyl down where it is supposed to go, using a scraper or credit card to be sure there are no air bubbles. Then fold it back up to the point where the vinyl is adhered, peel the backing off about 4 more inches and cut. Repeat that process until the decal is done. If you need tips for applying vinyl, check Youtube there are many.
Alright, vinyl decal all applied. Progress!
Staining the design:
Here is where it was just a total guess for me. My friend wanted the natural wood look for the logo and darker wood for the rest of the sign. I thought through many ways to do this and actually did a bunch of sample boards, but this is the one that worked the best. The issue is that the stain bleeds, so I couldn't just use a simple stencil like I would have with paint. Always do a test piece when you are trying something new. I saved myself a lot of heartache by doing so and discovering I needed a different technique. And that was….
DECOUPAGE. I seriously love this stuff. You can buy it here: Mod Podge Waterbase Sealer (16-Ounce) Gloss Finish
(aff link) For this logo I applied two coats of decoupage to every part of the logo that I wanted to remain unstained.
Once the decoupage has dried, go ahead and slowly remove the vinyl. The only thing to watch for is that the decoupage doesn't peel up as well. I actually had no issue with this, it removed easily with no problems. And this is what it looks like!
But, like I said, my friend wanted it stained. This also go a bit tricky. I used a rag so that the stain wouldn't be heavily applied anywhere, and wiped down the entire thing, including across the decoupaged part. The reason to use a rag is that stain will seep into the wood and there is nothing the decoupage can do about it, but by using it instead of a foam or paint brush, it prevents as much seepage. You can see a few spots here where the stain bled underneath the side of the decoupage, but for the most part it worked perfectly! This also has two coats of satin polyacrylic. I used the Minwax Stain, quart, Dark Walnut
(aff link) and Minwax Polycrylic, quart, Satin
(aff link)
All finished!
And there you have it! It turned out so pretty and they all just loved it!
I think sometimes it's easy to think that bloggers just know how to do everything, but in reality, we just figure it out like anyone else. Our experience can help, but I feel like I learn something new, or improve a skill, with every project.
So get out there, think up a project, and figure out how to make it! You can do it!
Here are a few of my other experiment projects: Decorative Wood Serving Tray DIY Wood Shim Hearts wall art Reclaimed Barn Wood Art
Rockler's got some good deals on power tools right now if you're in the market. Rockler.com – Power Tools (aff link)
Thanks for stopping by friends! If you could share this on Pinterest that would be amazing!
Keep creating!