Hello friends! Today I wanted to share with you this fun garland that I made.
We have a line of amazing Osage Orange trees, they are all funky and twisted and really cool. Here's a picture from last Spring before the leaves all came in:
(FYI – There are some affiliate links in this post which simply means that I get a small commission if you purchase through those links, at no cost to you. More details can be found in my Disclosure page. Thanks for supporting my small venture.)
Anyway, a few large sections of trees broke this summer after a storm, so when I knew I wanted to cut off some dead branches, that's where I went in search of some that weren't too big. I got lucky and found a few that were perfect for my idea. My handy husband cut them down with a chainsaw for me. I brought them inside and scrubbed them clean…there's lots of dirt and other stuff growing on real tree branches, so it definitely needed a good scrub.
I then used my miter saw to slice the wood.
This is very hard wood but my saw cut through it like nothing. The one struggle is that the branches weren't perfectly straight, so it was a bit harder than cutting already milled lumber. I still managed to make it work though.
I then drilled a hole in each piece. You want to be sure to get close enough to the edge that you can still put the design on the front, but not so close that you cause it to split when drilling. Again, this wood is so hard that I didn't have any problem, but depending on your wood, this could be an issue.
Alright, so the wood slices are cut and drilled, so now what?
Well, time for the lettering. I chose to use the stencil method, with vinyl as my stencil. This site is a great resource for all your vinyl needs, including machines! (aff link)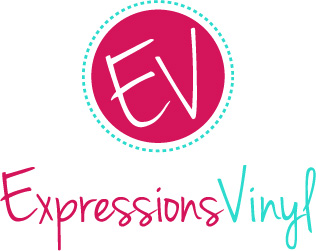 I went to my computer and used Silhouette Studio to design my letters. I made sure to measure the wood slices so that I didn't cut out letters that were too big. I used some bright orange 631 vinyl because it was what I had available and probably not a color I will use for other projects. I ended up having tons of space leftover, so I added snowflakes!
I then weeded out the INSIDE of the letters, so they would make a stencil. I cut the letters apart in order to apply them to the wood slices. I opted not to use transfer paper to apply them, though about halfway through I really regretted it with some letters, so I would encourage you to use it. Especially with the snowflakes! Regardless, apply the letters. I always find it easier to cut off a small section of the backing paper and stick down the top of the design where I want it. Here's a pic for example:
Remove the rest of the backing paper and rub the vinyl down firmly so it sticks to the wood slice. I did this with all the letters and snowflakes, then moved onto the next step.
Mod Podge is my favorite technique for painting letters. You can get some here:
Mod Podge Waterbase Sealer, Matte Finish
(affiliate link) I paint a thin coat of Mod Podge on the stencil before painting. This seals up the edges and makes it so the paint won't leak underneath the vinyl. Mod Podge may leak under, but since it dries clear, it isn't as easy to see as a paint mistake would be. As you can see below.
Once the Mod-Podge dries ( took mine about 20 minutes at most) then paint. I chose to paint with a thin later of white first, then top that with silver. It really made the silver stand out a lot more. Once that dries, go ahead and peel off the vinyl slowly. If you've painted thin layets you should have no problem with peeling, but just in case, make sure the paint doesn't peel off too!
All there is left to do is to figure out how you want to hang it. I chose to use some ornament hooks through the wood slices, then hang it on some twine.
We hung our awesome garland over the stable that I build this year for our church Christmas program. It's a bit bare because I haven't made a Joseph and Mary yet (and the roof isn't complete) but it reminds us of the reason for the season.
Hope you like this! If you make one, please share photos!
Also, PIN this if you can!